Five Fun Toy Gift Ideas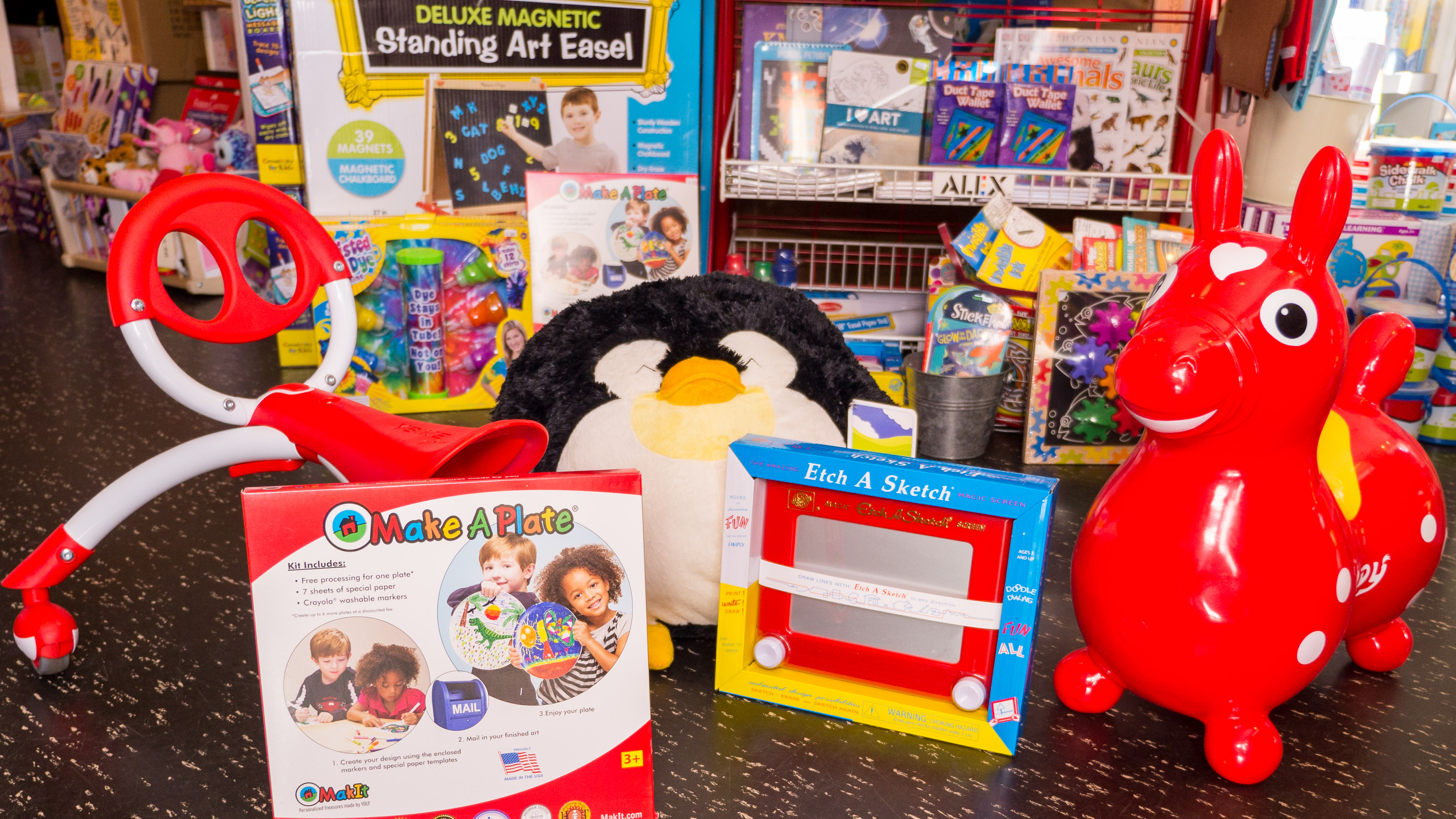 Here are five fun holiday toy picks for your holiday gift giving considerations. For more ideas visit or call one our stores near you.
Classic Etch A Sketch in Red
The magic drawing screen of the Etch A Sketch is still a classic after all these years, as people of all ages can create fun images just by turning knobs. This toy is perfect for little ones as well as nostalgic ones.
Make A Plate by Makit Products Inc.
The Make A Plate Pre-Paid Kit makes the perfect gift or in-home project. It comes with everything you need to create up to 7 plates. This kit includes a certificate code for one free plate (USA orders only). Additional plates can be made, processing fees would apply. Make A Plate has been a treasured family keepsakes since 1969, and they are still proudly Made in the USA! This is a great way to preserve the imagination of artists of all ages in a usable product that is dishwasher-safe and break-resistant. All of our products are BPA free and meet all safety standard guidelines. Your child (or inner child!) will want to eat from their special plate for every meal!
Squishable Penguin Plush
The Squishable Penguin Plush is incredibly cuddly and "squishy." His round softness makes him a great pillow, too.
Reviewers say: "super cute," "sleep with it every day," "huggable stuffed penguin," "exactly as advertised," "soft and fluffy," and "well made."
This Penguin was not made for marching! This Penguin was made for Squishing! Save him from a future of IMAX specials with a cuddle!
Gymnic / Rody Inflatable Hopping Horse, Red
For 30 years the Rody horse has promoted balance and coordination in children while providing a fun workout.
Made from soft, super strong, latex-free, BPA-free and phthalate-free vinyl
Rocking base (sold separately) transforms hopping Rody into rocking Rody.
Pewi Ybike Ride On Toy and Walking Buddy
The Ybike Pewi offers a sleek new take on the toddler walking/riding toy concept. Designed to help babies and young toddlers develop spatial awareness, balance, and gross motor skills, the Pewi provides both a "sit on" walker and a walking aid push toy. As soon as babies can pull up to stand and begin to take steps, the Pewi can be used as a stable push toy for walking practice. Thanks to the Pewi's wide and long base, the toy won't flip over when the child leans into it.
Recommended age range: 12 to 36 months